We are the Motley Tones!
The Mid-Atlantic's Premiere Purveyors of Music+Mayhem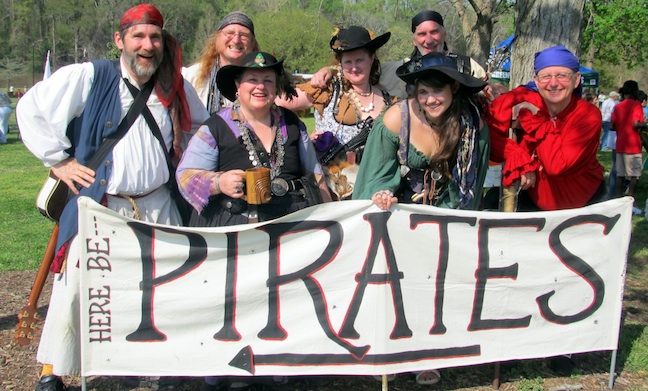 We have pub shows, stage shows, and can perform as strolling minstrels to entertain adults and children alike. So book a performance and add some pirate songs and pirate swagger to your next event! Or check out our Facebook page for the latest news and chatter.
2023 Performance Schedule

Dec 31:

Private New Year's Eve Party

,

Summerville, SC

---

Nov 11:

Buckston's Buccaneer Birthday,

Snow Camp, NC

Oct 28:

Oyster Company

7:30-10pm

,

Ocracoke Island, NC

Oct 27-28:

Blackbeard Jamboree,

Ocracoke, NC

Oct 26:

Private Party, Bandwidth

,

Raleign

Oct 19:

Very Last 2023 Pirate Singing Meetup 7pm at the Nicklepoint Brewing Company ,

Raleigh

Oct 14:

Private Wedding

,

Barnardsville, NC

Sep 29:

City of Raleigh Mother-Son Pirate Glow Party

,

514 Method Rd, Raleigh NC

Sep 22-24:

Beaufort Pirate Invasion,

Beaufort, NC

Sep 21:

Pirate Singing Meetup 7pm at the Nicklepoint Brewing Company ,

Raleigh

Sep 16:

High Point Public Library

Children's Program

,

High Point, NC

Sep 16:

Feast of the Pirates

Brunswick Riverwalk

,

Belville, NC

Sep 9:

Private Birthday Party

,

Winston-Salem

Aug 22:

Lazy Daze Arts & Crafts Festival,

Cary, NC

Aug 17:

Pirate Singing Meetup 7pm at the Nicklepoint Brewing Company ,

Raleigh

Aug 12:

Wet 'n Wild Water Park,

Greensboro, NC

Aug 4-6:

Bald Head Island Pirate Invasion,

Bald Head Island, NC

Jul 20:

Pirate Singing Meetup 7pm at the Nicklepoint Brewing Company ,

Raleigh

Jul 17:

Smith Mountain Lake Pirate Days ,

Smith Mountain Lake, VA

Jun 15:

Pirate Singing Meetup 7pm at the Nicklepoint Brewing Company ,

Raleigh

Jun 3-4:

Blackbeard Pirate Festival,

Hampton, VA

May 27:

Private party

,

Holly Springs, NC

May 20:

Opening Day, Neptune Island Waterpark,

Hartsville, SC

May 18:

Pirate Singing Meetup 7pm at the Nicklepoint Brewing Company ,

Raleigh

May 13:

Onslow County Pirate Fest,

Downtown

,

Swansboro, NC

Apr 20:

Pirate Singing Meetup 7pm at the Nicklepoint Brewing Company ,

Raleigh

Apr 15:

Greenville Piratefest,

Greenville, NC

Mar 16:

Pirate Singing Meetup 7pm at the Nicklepoint Brewing Company,

Raleigh

Feb 7:

Pendo Company Kickoff,

Raleigh Convention Center

---

2022 Performance Schedule

Oct 28-29:

Blackbeard's Pirate Jamboree (additional info),

Ocracoke Island, NC

Oct 20:

Very Last Pirate Singing Meetup of 2022, 7pm at the Nicklepoint Brewing Co.,

Raleigh

Oct 1:

High Point Public Library

children's program

,

High Point, NC [Cancelled due to Hurricane Ian]

Sep 15:

Pirate Singing Meetup 7pm at the Nicklepoint Brewing Co.,

Raleigh

Sep 10:

[Cancelled] Flowers Plantation Family Fun Fest

3-6 PM; Behind Percy Flowers Store, 4879 NC-42

,

Clayton

Aug 27-28:

Cary Lazy Daze Festival

9-5pm

,

Cary

Aug 18:

Pirate Singing Meetup 7pm at the Nicklepoint Brewing Co.,

Raleigh

Aug 5-7:

Bald Head Island Pirate Festival,

Bald Head Island, NC

Jul 21:

Pirate Singing Meetup 7pm at the Nicklepoint Brewing Co.,

Raleigh

Jul 13:

Mauney Memorial Library

Morning Children's Program and Afternoon Teen Workshop

,

Kings Mountain, NC

Jul 12:

RLNC Conference,

Wrightsville Beach

Jun 25:

Mystic Farm & Distillery

Special Rum Unveiling

,

Durham

Jun 25:

Tavern 42

7-10 PM - NEW TIME

,

Clayton

Jun 18:

Great Trent River Raft Race,

Union Point Park

,

New Bern

Jun 16:

Pirate Singing Meetup 7pm at the Nicklepoint Brewing Co.,

Raleigh

Jun 10:

Duplin County Library Pirate Party

Appearing with The Shadow Players

,

Kenansville, NC

Jun 4:

Dare Day 2022,

Manteo, NC

May 21:

Harbor District Maritime Festival 9:00 am - 2:00 pm,

Stewart Parkway, Washington NC

May 19:

Pirate Singing Meetup 7pm at the Nicklepoint Brewing Co.,

Raleigh

Apr 21:

Pirate Singing Meetup 7pm at the Nicklepoint Brewing Co.,

Raleigh

Apr 9:

Greenville Piratefest,

Greenville, NC

Mar 26:

Greenway Beer and Wine

4-7 PM -- 50th Birthday Party (but open to the public)

,

Rolesville

---

2021 Performance Schedule

Oct 29-30:

Blackbeard's Pirate Jamboree

Including appearances at the Ocracoke Oyster Company and the 1718 Brewery

,

Ocracoke, NC

Oct 14:

Pirate Singing Meetup 7pm at the Nicklepoint Brewing Co.,

Raleigh

Sep 19:

Flowers Plantation Arts & Crafts Fair

3 - 6 PM (Rain Date: 9/26)

, Behind Percy Flowers Store Clayton, NC

Sep 18:

High Point Public Library

childrens program

,

High Point, NC

Sep 11:

Greenway Beer and Wine Pirate Day

4-7 PM

,

519 South Main Street, Rolesville, NC 27571

Sep 9:

Pirate Singing Meetup 7pm at the Nicklepoint Brewing Co.,

Raleigh

Aug 28-29:

Cary Lazy Daze Festival

Sat, 9-6pm; Sun, 12:30-5pm

,

Cary

Aug 19:

Date change: Pirate Singing Meetup 7pm at the Nicklepoint Brewing Co.,

Raleigh

Aug 13-15:

Beaufort Pirate Invasion,

Beaufort, NC

Aug 7:

Tavern 42

8-11 PM

,

119 Oleander Drive, Clayton

Jul 10:

Carolina Pines RV Resort

5 PM

,

Conway, SC

Jul 8:

Pirate Singing Meetup 7pm at the Nicklepoint Brewing Co.,

Raleigh

Jun 22:

Kiddie Academy of West Cary

,

Cary

Mar 5:

Private Party

,

Holly Springs

---

2020 Performance Schedule

Aug 7-9:

[Cancelled]Beaufort Pirate Invasion,

Beaufort, NC

Aug 1:

Carolina Pines RV Resort

8-10 PM

,

Conway, SC

Jul 18:

[Cancelled] Appearance at the High Point Library,

High Point Public Library

,

High Point, NC

Jun 19-21:

[Event cancelled for 2020] Bald Head Island Pirate Festival

,

Bald Head Island, NC

May 9:

[Cancelled] Piratefest

,

Swansboro, NC

May 8:

[Cancelled] Pirate Cruise

,

Swansboro, NC

---

2019 Performance Schedule

Dec 13-14:

[Cancelled]St. Nicholas Christmas Market

Holshouser Bldg at the State Fairgrounds

,

Raleigh

Dec 7:

Private Christmas Party

,

Durham

Oct 10-12:

Tybee Island Pirate Festival,

Tybee Island, GA

Oct 8:

Very Last Pirate Singing Meetup of 2019 7pm at the Nicklepoint Brewing Co.,

Raleigh

Sep 20:

Talk Like a Pirate Day Celebration,

High Point, NC

Sep 14:

City of Oaks Pirate Fest Admission is free; RSVP is encouraged,

Raleigh

Sep 10:

Pirate Singing Meetup 7pm at the Nicklepoint Brewing Co.,

Raleigh

Sep 6:

Fabry Disease NFDF Conference,

Greensboro, NC

Aug 24-25:

Cary Lazy Daze Festival,

Roaming both days, Stage show on Sunday

,

Cary

Aug 13:

Pirate Singing Meetup 7pm at the Nicklepoint Brewing Co.,

Raleigh

Aug 9-11:

Beaufort Pirate Invasion,

Beaufort, NC

Aug 4:

Carolina Pines RV Resort,

Conway, SC

Jul 19:

Neck of the Woods Variety Show,

Wake Forest, NC

Jul 15:

Kiddie Academy of West Cary

-- 2 assemblies, 10 - 11 AM

,

Cary, NC

Jul 9:

Pirate Singing Meetup 7pm at the Nicklepoint Brewing Co.,

Raleigh

Jun 4:

Pirate Singing Meetup 7pm at the Nicklepoint Brewing Co.,

Raleigh

Jun 1:

Dare Day Festival,

Manteo, NC

May 26:

Private Birthday Party

,

Durham

May 25:

Midtown Farmer's Market at North Hills,

Raleigh

May 7:

Pirate Singing Meetup 7pm at the Nicklepoint Brewing Co.,

Raleigh

May 4:

Fest in the West,

Thomas Brooks Park

,

Cary

Apr 27-28:

Swansboro Pirate Fest,

Swansboro, NC

Apr 13:

Greenville PirateFest 2019,

Greenville, NC

Apr 6:

Private School Function

,

Durham

Apr 2:

Pirate Singing Meetup, 7pm at the Nicklepoint Brewing Co.,

Raleigh, NC

---

2018 Performance Schedule

Oct 26-28:

Blackbeard's Pirate Jamboree (also FB page)

300th Anniversary of the Death of Blackbeard

,

Ocracoke Island, NC

Oct 19-20:

Blackbeard 300 Tricentennial Celebration,

Bath, NC

Oct 13:

Pirate Day at Hubb's Corn Maze,

Clinton, NC

Oct 5-7:

Tybee Island Pirate Festival,

Tybee Island, GA

Sep 22:

The City of Oaks Pirate Fest (link for free tickets),

Raleigh, NC

Sep 19:

High Point Public Library -- Children's Program

4pm

,

High Point, NC

Sep 19:

Marbles Kids Museum

Noon

,

Raleigh, NC

Sep 8:

Midtown Farmer's Market at North Hills,

Raleigh, NC

Sep 7:

Fabry Disease NFDF Conference,

Greensboro, NC

Aug 25:

Raleigh Oak Charter School Festival,

Raleigh, NC

Aug 22:

PACW Meeting at the North Carolina Museum of History,

Raleigh, NC

Aug 10-11:

Beaufort Pirate Invasion,

Beaufort, NC

Aug 3:

Raleigh MAIN Event Press Conference,

Event Plaza

,

Raleigh, NC

Jul 29:

Currituck Pirate Plunder Festival at the Weeping Radish Farm Brewery and Eco-Farm,

Jarvisburg, NC

Jun 16:

The Wedding of Ring Tone and Threat Tone

,

Efland, NC

Jun 14:

Kiddie Academy of West Cary

,

Cary, NC

Jun 9:

Midtown Farmer's Market at North Hills

Kid's Day

,

Raleigh, NC

Jun 2:

Dare Day,

Manteo, NC

May 19-20:

Pirate Party on the Beach,

Virginia Beach, VA

May 5:

Fest in the West,

Thomas Brook Park

,

Cary, NC

May 4-5:

Pre-show Entertainment for Peter and the Starcatcher NRACT,

Raleigh, NC

Apr 28:

Cary Spring Daze Festival

,

Cary, NC

Apr 21:

Downtown Public Day, 11am-9pm

Museum of the Albermarle

,

Elizabeth City, NC

Apr 20:

Dine with a Pirate, 6pm-9pm

Museum of the Albermarle

,

Elizabeth City, NC

Apr 20:

School Day, 11am-3pm

Museum of the Albermarle

,

Elizabeth City, NC

---

2017 Performance Schedule

Dec 13:

Private Party

,

Charlotte, NC

Nov 4:

Private Birthday Party

,

Sims, NC

Oct 27-29:

Blackbeard's Pirate Jamboree (alt link),

Ocracoke Island, NC

Oct 14:

Hubb's Corn Maze,

Pirate Day

,

Clinton, NC

Oct 10:

Moonlight Walk at the East Regional Library

6pm to 7:30pm

,

Knightdale, NC

Oct 6-8:

Tybee Island Piratefest,

Tybee Island, GA

Sep 29:

Fabry Disease NFDF Conference,

Greensboro, NC

Sep 16:

5th Annual Charter Day Pirate Festival,

Port Royal, VA

Sep 9:

Downtown Cary Farmer's Market

9:30 am - 11:30 am

,

Cary, NC — 135 S. Chatham St., Cary, NC

Aug 26-27:

Cary Lazy Daze Festival,

Roaming both days, on stage 8/27 at 2:30

,

Cary, NC

Aug 11-12:

Beaufort Pirate Invasion ,

Beaufort, NC

Jun 23:

Will of the Wisp Beer and Wine Bar

7-10 PM

,

Bald Head Island, NC

Jun 23-24:

Bald Head Island Pirate Invasion,

Bald Head Island, NC

Jun 13:

Kiddie Academy of West Cary

-- 2 assemblies

,

Cary, NC

Jun 3-4:

Blackbeard Pirate Festival,

Hampton, VA

May 19-20:

Pirate Party on the Beach,

Virginia Beach, VA

May 12-13:

Swansboro Pirate Fest and Pirate Ball,

Swansboro, NC

May 6:

Downtown Cary Farmer's Market

9:30 - 11:30 am

,

Cary, NC — 135 S. Chatham St., Cary, NC

Apr 29-30:

Yorktown Pirate Invasion and Pirate Ball,

Watermen's Museum Yorktown, VA

Apr 24:

Jordan Center in Raleigh -- 2 assemblies for 3-5 year olds

,

Raleigh, NC

Apr 22:

A Ceilidh at the Arts Center

(ticketed event)

,

Cary, NC

Apr 22:

Children's Day Festival

Bond Park

,

Cary, NC

Apr 8:

Greenville PirateFest,

Greenville, NC

---

2016 Performance Schedule

Dec 3:

Ole Time Winter Festival,

Cary, NC

Oct 28-29:

USO Tour (Unsavory Swabs of Ocracoke), Ocracoke Bar & Grill

Cheer up the islanders and clean-up crews

,

Ocracoke, NC

Oct 28-30:

Cancelled: Blackbeard's Pirate Jamboree

(due to damage from Hurricane Matthew)

,

Ocracoke, NC

Oct 22:

Pirate Day at Hubb's Corn Maze,

Clinton, NC

Oct 15:

Private Party

(still time to schedule yours: info@motleytones.com to learn more),

Cary, NC

Sep 24:

Private birthday party

(We can entertain at your party. Email info@motleytones.com for details),

Chapel Hill, NC

Sep 24:

Cary Downtown Farmer's Market,

Cary, NC

Sep 21:

Pub Songs and Sailor Songs at the Raleigh Beer Garden

Two sets only, starting at 7pm

Aug 27-28:

Cary Lazy Daze Festival,

Cary, NC

Aug 12-13:

Beaufort Pirate Invasion,

Beaufort, NC

Jul 9:

Private party

, Martinsville, VA (we can perform at your party, email us at info@motleytones.com )

Jun 25:

Denton Pyrate Invasion and Artisan Market,

Denton, NC

Jun 22:

"Set Sail for Adventure," Hope Valley Country Club Summer Camp

— Performance for, and interaction with, campers from 4-10

,

Durham, NC

Jun 10-11:

The Pirate Festival,

Marion, SC

Jun 3-5:

Blackbeard Pirate Festival,

Hampton, VA

May 21:

Cary Downtown Farmer's Market -- Pirate Day,

Cary, NC

May 14-15:

8th Annual Pirate Party on the Beach,

Virginia Beach, VA

Apr 30:

Marine Market & Boat Show,

Washington, NC

Apr 23:

Private Wedding

, Raleigh, NC (we can perform at your wedding, email us at info@motleytones.com )

Apr 16:

Hoist the Jolly Roger Fundraiser,

Dockhouse Restaurant

,

Beaufort, NC

Apr 9:

Greenville PirateFest,

Greenville, NC

Apr 2:

Cary Downtown Farmer's Market -- Opening Day,

Cary, NC

Feb 13:

Cindy Warner Fund Raiser

,

Williamsburg, VA

---

2015 Performance Schedule

Dec 6:

Ole Time Winter Festival,

Cary, NC

Nov 14:

Oyster Roast for Ada Mae Centenary

,

New Bern, NC

Oct 17:

Private Wedding

Sep 19:

Day in the Park,

High Point NC (International Talk Like A Pirate Day!)

Aug 21:

Private corporate event

Aug 5:

Chesterbrook Academy,

Raleigh, NC

Jul 31-Aug 1:

Old Baldy Fundraiser,

Bald Head Island, NC

Jul 25:

Ice Cream Social: Cary Downtown Farmer's Market,

NC

Jun 20:

Cary Farmer's Market,

NC

May 17-18:

NCMA Family Renaissance Faire,

Raleigh, NC

May 15:

Belhaven Buccaneer Festival,

Belhaven, NC

May 2:

Onslow Beach State Park Piratefest,

Swansboro, NC

May 1:

Volunteers of America Fundraiser),

Virginia Beach, VA

Apr 26:

Washington Harbor's Marine Market,

Washington, NC

Apr 10-11:

Greenville Piratefest,

Greenville, NC

Feb 28:

Arrlene the Pirate Mermaid Colonial Seaport Fundraiser for the Luna

Williamsburg Regional Library

,

Williamsburg, VA

Jan 10:

Private Birthday Party

- email info@motleytones.com to book your own!

Jan 9:

Corporate Luncheon

- 10am-2pm

,

Durham, NC

---

2014 Performance Schedule

Dec 19:

NC Museum of Art Pirate Christmas Event

,

Raleigh, NC

Dec 6:

Cary Ole Time Winter Festival,

Cary, NC

Oct 31-Nov 1:

Blackbeard's Pirate Jamboree,

Ocracoke, NC

Oct 27:

Garner Food Truck Rodeo

,

Garner, NC

Oct 26:

Private Party

,

Raleigh, NC

Sep 27:

Grand Opening College Nannies and Tutors,

Cary, NC

Sep 19-20:

Southport Pirate Invasion,

Southport, NC (Cancelled)

Aug 23:

Cary Lazy Daze Festival,

Cary, NC

Aug 14:

Park West Village

4pm

,

Morrisville, NC

Aug 9:

Private party email info@motleytones.com to schedule yours today!,

Beaufort, NC

Aug 8-9:

Beaufort Pirate Invasion,

Beaufort, NC

Aug 1-2:

PIRATES ARE COMING!,

VBald Head Island, NC

Jul 23:

Performance for The Goddard School

,

Apex, NC

Jul 12:

Lickinghole Creek Brewery, Pirate Beer Launch,

Goochland, VA

Jun 28:

Downtown Cary Farmer's Market,

NC

Jun 23:

Tir Na Nog Running Club, Charity event: Wake Meals on Wheels,

Raleigh, NC

Jun 7:

Maker's Faire,

Raleigh, NC

May 18:

Private Party

,

Raleigh, NC

May 17:

Pirates on the Pungo Regatta<,

Belhaven, NC

May 11:

Cary National Train Day

,

Downtown Cary, NC

Apr 26:

Washington Harbor's Marine Market,

Washington, NC

Apr 11-12:

Greenville PirateFest,

Greenville, NC

Apr 6:

Night in Tortuga Pancakes & Pirates Breakfast,

Beaufort NC

Apr 5:

Cary Downtown Farmer's Market,

Opening Day, Cary NC

Mar 22:

Ceilidh Irish Festival,

Cary, NC: 7pm

Mar 16:

Private Party

(Contact info@motleytones.com for yours!)

Mar 1:

Garner Talent Showcase,

Garner Performing Arts Center

---

2013 Performance Schedule

Oct 25-26:

Blackbeard's Pirate Jamboree (cancelled due to hurricane damage),

Ocracoke, NC

Oct 11:

Southport PirateFest,

Southport, NC

Oct 5:

Live Music at Youngsville Wine & Beer,

Youngsville, NC

Sep 28:

Cary Downtown Farmer's Market,

NC

Sep 27:

Grand Opening College Nannies and Tutors,

Cary, NC

Sep 21-22:

Pack the Pirates in the Park at the Mariner's Museum,

Newport News, VA

Sep 21:

Western Wake Farmer's Market,

Cary, NC

Sep 19:

International Talk Like a Pirate Day

Aug 30:

Pour House Music Hall,

Raleigh, NC

Aug 24:

Sadlack's Punk & Pirate Night,

Raleigh, NC

Aug 22:

White Oak Grill,

Garner, NC

Aug 14:

Park West Village

4pm

,

Morrisville, NC

Aug 9-10:

Beaufort Pirate Invasion,

Beaufort, NC

Aug 3-4:

Bald Head Island Pirate Festival,

Bald Head Island, NC

Jun 15:

Western Wake Farmer's Market,

Cary, NC

Jun 1-2:

Blackbeard Pirate Festival,

Hampton, VA

May 25:

Downtown Cary Farmer's Market,

NC

May 11:

Cary National Train Day

,

Downtown Cary, NC

May 4:

Onslow County Pirate Festival Hammocks Beach State Park,

Swansboro, NC

Apr 27:

Cary Spring Daze Festival,

Cary, NC

Apr 27:

Live Music at Youngsville Wine & Beer,

Youngsville, NC

Apr 19-20:

Night in Tortuga Fundraiser,

Beaufort NC

Apr 12-13:

Greenville PirateFest,

Greenville, NC

Apr 11-12:

Greenville PirateFest,

Greenville, NC

Apr 11:

Park West Village Spring Fling,

Morrisville, NC

Apr 6:

Downtown Cary Farmer's Market,

Cary, NC

---

2012 Performance Schedule

Dec 1:

Cary Ole Time Winter Festival,

Cary, NC

Nov 3:

Cary Band Day Parade,

Cary, NC

Nov 3:

Private Birthday Party

,

Smithfield, NC

Oct 20:

NC State Fair,

WUNC Booth

,

Raleigh, NC

Oct 12-13:

Southport Pirate Fest,

Southport, NC

Sep 22:

Downtown Cary Farmer's Market,

Cary, NC

Sep 15:

Western Wake Farmer's Market,

Cary, NC

Sep 4:

White Oak Pirate Invasion,

Garner, NC

Aug 10-12:

Beaufort Pirate Invasion,

Beaufort, NC

Aug 3-5:

Bald Head Island Pirate Festival,

Bald Head Island, NC

Jul 14:

Western Wake Farmer's Market,

Cary, NC

Jul 7:

Private Party

,

Apex, NC

Jun 23:

Bridgeton RiverFest

,

Bridgeton, NC

Jun 4:

Blackbeard Pirate Festival,

Hampton, NC

Jun 2-3:

Blackbeard Pirate Festival,

Hampton, VA

May 25:

Downtown Cary Farmer's Market,

Cary, NC

Apr 29:

Crossroads Cinemas

The Pirates! Band of Misfits Premiere

,

Cary, NC

Apr 14:

Greenville PirateFest,

Greenville, NC

Apr 5:

Downtown Cary Farmer's Market,

Cary, NC

---

2011 Performance Schedule

Oct 14-15:

Southport Piratefest,

Southport, NC

Sep 17-18:

Talk Like A Pirate Day

The Mariners' Museum

,

Newport News, VA

Sep 10:

Private Birthday Party

,

Apex, NC

Aug 12-13:

Beaufort Pirate Invasion,

Beaufort, NC

Jun 25:

Bridgeton RiverFest,

Bridgeton, NC

Apr 9:

Greenville Piratefest,

Greenville, NC

---

2010 Performance Schedule

Oct 29-30:

Southport PirateFest,

Southport, NC

Sep 18-19:

Talk Like A Pirate Day

The Mariners' Museum

,

Newport News, VA

Aug 13-14:

Beaufort Pirate Invasion,

Beaufort, NC

Jun 9-11:

Blackbeard Pirate Festival,

Hampton, VA